Our Role in Optical Education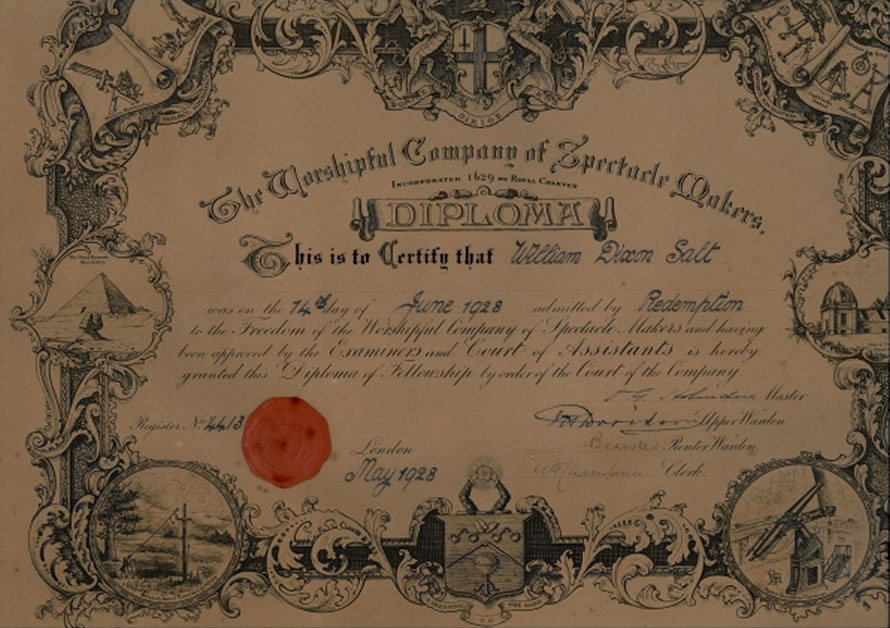 Fellowship Diploma issued by the Worshipful Company of Spectacle Makers in 1928
For much of the Company's history, it controlled the standards of production of spectacles. Training of the next generation of craftsmen was important.
Members of the Company encouraged new entrants to the profession through apprenticeships and ensured that training was provided to an appropriate standard, by "Masters" of the craft. After seven years and having produced a suitable "Master's Piece" (masterpiece), successful students were released from their apprenticeship and allowed to trade on their own, as "Freemen". Even today, anyone who passes a recognised optical qualification can apply to join the Company as a Freeman, by right.
In the 19th Century, the Company developed its own qualifying examinations, evolving over time to encompass sight testing and dispensing. The Worshipful Company was one of three organisations who qualified "high street" opticians.
In the 1980s, the Company played a prominent role in the establishment of specialist qualifying bodies which would set their own professional standards and qualify regulated eye health professionals through their own examinations. The College of Optometrists and the Association of British Dispensing Opticians are the primary qualifiers for optometrists and dispensing opticians in the United Kingdom and have expanded their remit internationally too. The Company maintains excellent relationships with both of them.
From the mid 1980's the Spectacle Makers' Company focused on promoting qualifications for people working in optical laboratories and practices. Specialist training led to nationally accredited qualifications and the Level 4 Diploma for Optical Technicians was recognised as the gold standard for technicians in optical manufacturing. The Diploma is fondly known as the SMC(Tech), the post-nominal letters which successful candidates use with pride.
National regulators required complete separation of training from assessment, so in 2010 the Company set up the WCSM Education Trust to provide training courses leading to WCSM qualifications. The responsibility for training passed to ABDO College in 2015.
The following years saw a sustained increase in compliance obligations for awarding organisations across all 4 nations of England, Scotland, Wales and Northern Ireland against a background of falling demand for independently accredited exam-based qualifications. In March 2019 Company announced that it would gradually withdraw from offering examinations and the final WCSM Level 4 Diploma examination took place in June 2021.
ABDO College continues to offer training for Senior Optical Assistants and Optical Technicians, designed to provide progression towards the FBDO qualification and a career in dispensing.

This image shows ladies celebrating their Level 2 Diplomas in Optical Care, having worked part-time in optical practices before achieving their qualifications.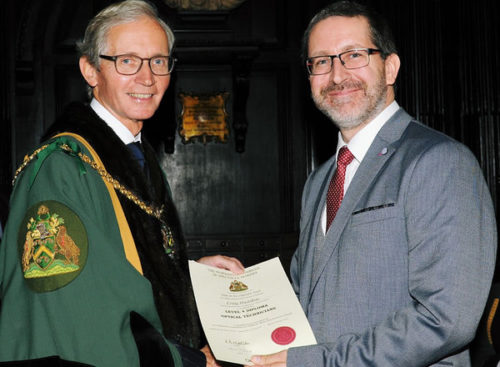 Many of those who achieved the "gold standard" SMC(Tech) Level 4 Diploma for Optical Technicians have gone on to train others in the technical, mathematical and precision manufacturing skills needed in optical labs.
The Company is proud to have provided the first nationally recognised qualifications for professional support staff below registrant level who were studying alongside their normal work in practice. Over time, employers developed their own programmes and many now provide a formal structure for training and development of their staff.
WCSM continues to support the drive to increase skills in optical care, but through different means. In 2016 a bursary programme was started to encourage talented young people to study for diplomas and degrees in dispensing, optometry and orthoptics in UK institutions. The programme was expanded in 2017 to include professional development awards for ophthalmologists in training. The schemes are operated now through The Spectacle Makers' Charity.
The joy of the optical world is that this is a sector in which there is a strong, accessible pathway for career progression. There are many examples of people who have started as a part time assistant, perhaps with very few formal qualifications to their name. With drive and enthusiasm, an interest in vision and a real commitment to helping others, they have developed their knowledge at work, progressed in their training at their own speed and in their own way and moved up through further and higher education to achieve their career goals. Long may that continue!
Certificates
If you passed examinations with WCSM up to June 2021 and want to request a replacement certificate, or to change the name or recognise a gender reassignment on your certificate, please contact the Office on 020 7236 2932. You may be asked for proof of identity and other information before we can reissue a certificate. Replacement certificates cost £30. Please note that it may not be possible to provide copies of certificates for qualifications obtained before 2015.