British Optical Association Museum
A collection to record the heritage of the ophthalmic and related optical professions was established by the British Optical Association in 1901.
Consisting originally of antique spectacles, this has now broadened into a comprehensive three-dimensional archive of vision-related material embracing such topics as sight-testing, ophthalmic dispensing, optical instruction, extreme low vision and the national Contact Lens Collection (CLC).
In 1980 the BOA Museum was passed into the charge of the newly established College of Optometrists (of which the Company, together with the disbanded BOA, was a founding body). The Museum has maintained a close link with the Company ever since. Most of its curators, including the current one, have been Liverymen.
The museum maintains a dedicated WCSM section and its archive includes a small but growing number of documents complementing the Company's own archival records at Guildhall Library. These include menu cards, photographs and certificates.
There is no room in the WCSM office to hold or display items of historic interest and our relationship with the museum and with the College of Optometrists is therefore very important. Prospective donors of records and objects of interest should please contact the curator in the first instance.
All Freemen and Liverymen, as well as the general public, are most welcome to visit the museum at the College in 42 Craven Street during weekday office hours, though strictly by prior appointment.
Tel: 020 7766 4353
Curator: Dr Neil Handley
Email:
museum@college-optometrists.org
Together with the BOA Museum, Apothecaries' Hall is a member of the London Museums of Health and Medicine.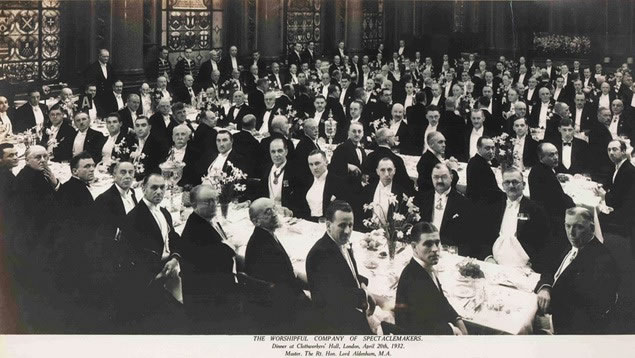 Group photograph of a dinner of the Worshipful Company of Spectacle Makers at Clothworkers' Hall, 20 April 1932.
The Clothworkers' Hall, the 5th in that Company's history, was completely destroyed by a Luftwaffe bomb nine years later.