Who can join?
Membership of our Company is not restricted to people who work in the optical sector. Anyone aged 18 and above can apply, regardless of race, religion, marital status or disability. Membership of the Company has been open to both men and women since 1699. Many current members are active in optical manufacturing, on the high street, in hospitals or in community eye care, or in roles supporting those with sight loss. They are always happy to share their knowledge and experience. We also have senior charity heads and professionals of many different sorts who support our mission – better vision for all – and share our belief that no-one should be left behind because of their vision.
Applications are welcomed from inside and outside the United Kingdom. Proof of identity, nationality and current address will be required (certified translations may be required in some cases). All those who wish to be Freemen of the Company and Freemen of the City of London have to make a Declaration which confirms their respect for the City and the British monarchy, as the Company was formed and operates under their authority.
The Court's general policy is that up to 25% of places within the Livery may be allocated to those who have no direct connection with optics but still support the Company's aims. The Company very much welcomes people working in other professions who share the values of the Livery world: the principle of Fellowship and support for the 4 C's – the Craft, the City, Charity and Community.
Benefits of Membership
Networks
We value the ability to work across disciplines. We are firmly apolitical, independent and globally-minded
We have more than 500 Freemen and 370 Liverymen across the world
All professionals are welcome, from the vision care and sight loss sectors and beyond
Livery gives distinction and recognises your professional standing
Liverymen are entitled to vote for the election of the City's two Sheriffs and the Lord Mayor
Health Liveries group work together to build City awareness of Health issues
Events
We operate from the prestigious Apothecaries' Hall, built in 1670. Quarterly lunches are held here which are a unique blend of tradition and celebration.
Members are invited to exclusive ceremonial occasions within the City of London, including the Annual Livery Dinner.
The Spectacle Makers' Society, the social arm of the Company, offers fellowship through an informal programme of social events and trips. There is a great mix of people from all ages and backgrounds, with friends and family welcome to many events.
Giving Back
The Spectacle Makers' Charity is a grant-giving charity aiming to help those with vision impairment and their families, and to support the next generation of optical professionals through bursaries.
It contributes over £75,000 each year to bursaries, awards and grants to charitable causes relating to eye care and sight loss in the UK and abroad, with a focus on transparency, impact reporting and efficiency.
WCSM encourages research in the visual sciences by awarding medals each year and sponsors an annual public lecture in vision science.
How to Join
1) The first step in becoming a Spectacle Maker is to fill in the form. To download the application form please click here
WCSM Application Form 2023
If you require the form in a different format, for example, in larger size font or in Word, please contact administrator@spectaclemakers.com.
All forms go to the Court for approval. Depending on when the Court next meets, this part of the process could take from a couple of weeks to three months
2) Apply to the City of London for Freedom of the City. Again, approval has to be given by the Court of Aldermen who meet 8 times per year. We usually say you should allow around 8 weeks from applying for City Freedom to being admitted in your own individual ceremony.
3) You can then let the Clerk know if you wish to be added to the waiting list for Livery. You must be both a Freeman of the City and a Freeman of the Company before you can be considered and the decision on progression to Livery rests with the Master and Wardens.
4) Clothing of new Liverymen happens only 3 or 4 times a year. Ceremonies happen before the Court Lunches in March, June and December and there may be an additional ceremony offered in September, immediately before the annual Presentation Ceremony.
You can read more detailed information about each stage of membership here on the website. For specific questions about eligibility and required documentation, please contact the Clerk.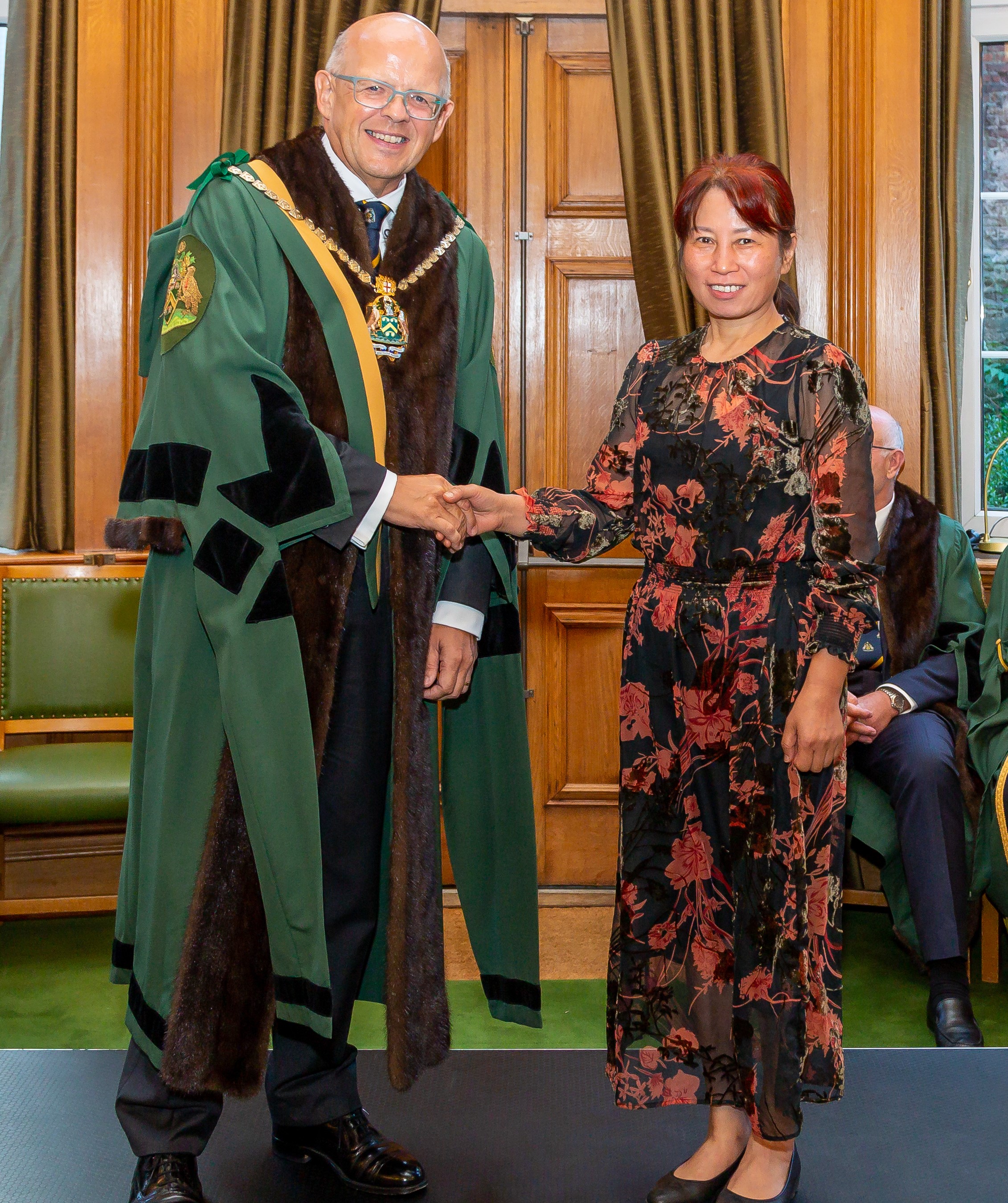 A new Freeman with the Master at the 2022 Presentation Ceremony.