The Spectacle Makers' Lecture
An annual series of lectures celebrating the latest research and ground breaking progress being made in the field of vision science. Each year the Master Spectacle Maker invites an internationally renowned researcher, academic or professional working in vision care to present their findings and impact on our understanding of vision.
The Spectacle Makers' Lecture 2023:
Myopia: Sunshine and Nightshade

This year's lecture will explore latest findings and research in one the most pressing areas of vision care today; myopia is one of the fastest growing vision impairments in higher income countries, especially in children. Doctors and Ophthalmologist understand that this drastic increase in cases of myopia, which is predicted to rise to 50% of the world's population by 2050, is caused by life style changes incurred by modern life.
However there is still much that is contested around the causes, lasting impacts and treatments for myopia. Professor David Mackey AO, MBBS, MD, FRANZCO, FRACS, FAHMS, FARVO will talk the latest findings on the relationship between high rates of sun exposure and lower rates of myopia, and the use of low concentration atropine (nightshade) as an effective treatment for myopia.
Professor David Mackey AO is an internationally renowned genetic ophthalmologist and leading researcher in glaucoma genetics based at the Lions Institute, Centre for Ophthalmology and Visual Science, University of Western Australia. He is the world's most published author in glaucoma genetics and has embarked on exploring the link between developing myopia from a young age to the increased likelihood of being diagnosed with glaucoma later in life.
Spectacle Makers can book now to attend this lecture at 1 Wimpole Street, Marylebone, W1G 0AE, Monday 4th December from 5.30pm. The evening will begin with teas, coffee and refreshments before being seated for the lecture to begin at 6pm. The lecture will be followed by a short Q&A session from 7-7.15pm. Spectacle Makers and their guests are invited to stay for a reception at the Royal Society of Medicine, which will finish at 8.15pm.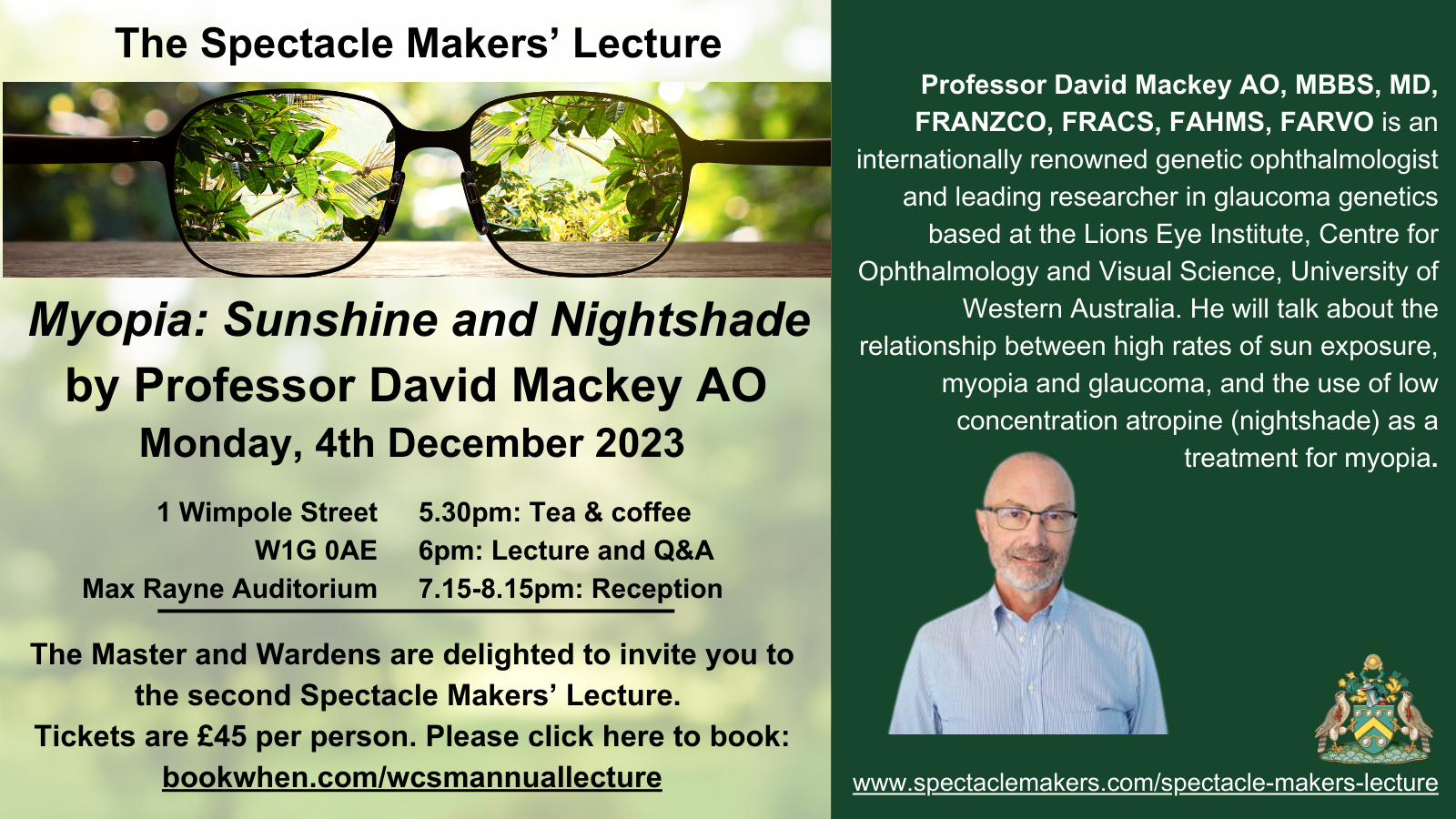 The lecture will also be recorded and available on the members' area to watch back after the event itself.
Past Lectures
2022 Keeping an Eye on the Time: Fundamental Research to New Therapeutics by Professor Russell G. Foster CBE, FRSB, FMedSci, FRS
Members can watch this lecture and Q&A by logging in to the members' area and visiting the News page.